IF YOU WANT TO KNOW WHO WE ARE
Julia Goss talks to David and Elaine Stevenson
"You! - Ginger! - 'The Trout'!"
For crossword enthusiasts and others who share their devious mental processes, such an enigmatic pronouncement will teem with tantalising significance, having inescapable overtones of peremptory diners and aromatic mothers-in-law. Despite the intervening years, Julia Goss' heart still sinks at the memory of the discomfiture which these words once caused her. When she began her studies at Trinity College of Music, she was rather less proficient at the piano than she could have wished, and her fellow-students were only too aware of it. On one occasion they were all required to prepare several pieces of music for a practical session designed to train the class in teaching singing to schoolchildren. The pieces ranged in complexity from the comparatively easy "Art thou troubled?" to a difficult setting of Schubert's song "The Trout", which the students were to sing in turn to their own piano accompaniment. In view of her imperfect instrumental skill, Julia judged that forward planning would not be misplaced and chose to sit where, if the natural sequence were followed, she would escape with "Art thou troubled?" Unfortunately the professor was a man of perception who evidently decided that, if anyone was to be troubled, it should be Julia herself, and when it came to her turn to perform, he invited her in the terms aforesaid to attempt the most difficult piece of all! Mounting the rostrum in the sure knowledge that "The Trout" was beyond her immediate capabilities, she reacted to the crisis with a combination of improvisation, wit and good-humour which was later to he of service in her professional career. Singing exquisitely, she accompanied herself with simple random chords, to the hysterical delight of her class-mates!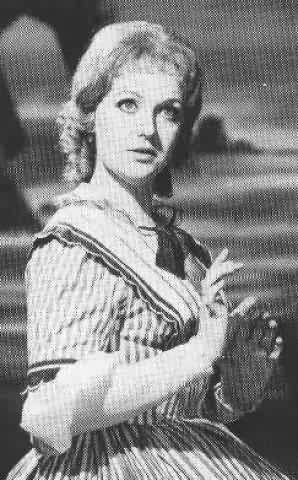 Although she has lived in London for the greater part of her life, Miss Goss is proud to have been born in Scotland of Scots parentage. She hails from Lanarkshire, not far from Glasgow. Her father's work brought him to London when Julia was still very young, and though her Scots accent withered in the environment of an L.C.C. primary school, her singing and acting talents quickly blossomed in its place. She was encouraged by an enthusiastic junior school teacher who himself composed the music for end-of-term playlets, and she continued to gain valuable vocal experience at grammar school, in church and other local choirs, and in amateur dramatics.
At the age of seventeen, she was undecided about her future the professional stage appealed primarily, but regular employment in a precarious occupation was problematical, and she seriously considered training for the probation service or (like her sister) for a career in textile design. The solution was to combine singing studies with a teaching course in order to provide an alternative qualification in case her original ambitions should come to grief. Unfortunately, a near-teaching standard of piano performance was required for the course, and although Julia had reached G.C.E. advanced level in music at school, she had relied upon her singing ability in preference to learning to play an instrument. Consequently she now devoted herself to the piano to such good effect that within twelve months she was accepted by Trinity College of Music - on the clear understanding that she would go on practising hard!
Having successfully completed a two-year Licentiate course followed by a one-year Fellowship Diploma in singing, during which time she contrived to get through a good deal of concert and operatic work, Julia heard that the D'Oyly Carte Opera Company had vacancies. She had never given an audition before and, feeling that the experience would be beneficial, selected "Love is a plaintive song" as a test piece. Being halted in full flight did little to soothe her initial nervousness, but in the event there was no cause for anxiety - half a number had been enough to convince the audition panel of her eminent suitability.
She joined the Company in Manchester as a chorister in the spring of 1967 and graduated to principal status only eighteen months later. If her service in the chorus was short-lived, it nevertheless helped to build a sound foundation for her subsequent career, and she remembers the period with gratitude. There were quite a number of seasoned artists then employed in the D'Oyly Carte chorus, and her expertise in performance, stagework and make-up developed swiftly from their example. Julia's level-headed approach to her work was in no way distorted by her rapid rise to fame.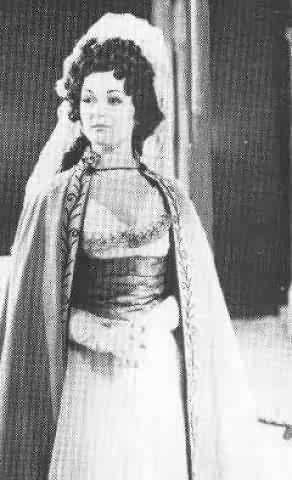 She is quick to admit to the good fortune of having been in the appropriate place at the right time to grasp an exceptional opportunity, and finds it in her heart to feel for talented colleagues who find advancement more elusive. D'Oyly Carte principals receive a measure of acclaim from some of their more zealous supporters,but they are unlikely to be lionised in the manner of pop idols, and Julia scornfully dismisses any notion of herself as a grand star. Singers come and go, and comparatively few linger in the public memory - the unpalatable fact of dispensability is best accepted. Dedication for her does not involve standing in the wings long before the curtain rises, and absorbing atmosphere; her aim is rather to achieve and maintain professional artistic standards in a busy performing routine in which survival depends on stamina and realism. She thinks herself fortunate to be doing a job of work which she finds remarkably agreeable, but recognises that audiences may hold a more romanticised view of the theatre and does her best to keep the two concepts in balance. In spite of the inevitable minority who are demanding, patronising or over-familiar, Julia had a high regard for fans of the Company and tried to be polite and friendly at the stage-door - even when feeling very tired - and took pains over her appearance before leaving the theatre.
Gone were the days when D'Oyly Carte casting drew a sharp distinction between the light soprano roles and the more dramatic parts, and Julia was reasonably content with the range that was put at her disposal, both in terms of character and performance. She enjoyed a comic acting part (Rose Maybud), a rewarding singing role (Mabel), liked to portray the lisping Casilda, and had fun as Yum-Yum and Lady Psyche.
On-stage Julia habitually appeared relaxed and at ease and gave the impression that her work was deceptively simple - an illusion successfully achieved only by exceptional talent. No-one who saw her simultaneously playing the parts of both Rose Maybud and Mad Margaret at Sadler's Wells on 20th March 1976 will ever doubt her acting accomplishments! To identify with the character, she made a conscious effort of self-effacement to the extent that she did not merely play a part but transposed herself psychologically into the character she was representing. Constant repetition of the exercise kept her interpretation fresh. Having a good memory helped her to assimilate dialogue and songs in quantity without excessive effort, but inevitably there were occasional mishaps, the most spectacular of which occurred at Stratford-on-Avon during her very first performance as Casilda, and haunts her still: during the Act I dialogue with Luiz (Philip Potter) just before the duet 'There was a time' which ends in a tender embrace, Julia quite forgot her lines and grabbed the startled Luiz ahead of schedule in an excess of passion, demanding to know what came next! Her usual remedy for the infrequent errant line was to keep smiling and press on without hesitation in the self-induced conviction that the impromptu words are at least as good as the originals, if not better. Colleagues may have looked at her as though she is crazy, but the audience knew they must have misheard!
Julia finds the music of the operas delightful and admires their evergreen topicality and wide appeal to old and young; but because the works are basically light-hearted, the false conclusion is often drawn that they must consequently be easy to perform. On the contrary, they are extraordinarily difficult to sing well and demand a fine equilibrium between the important libretti and the musical line. All-round skills of singing, acting and dancing are essential, their various roles frequently making quite different demands upon the performers, and the busy principals need a comprehensive vocal ability; for instance, a brilliant coloratura voice will be inadequate to cope constantly with the soprano roles of Gilbert and Sullivan unless it is also proficient in the lower register. The sheer volume of work demands a thoroughly sound basic technique. Julia liked to warm-up vocally before going on-stage, and continued to take singing lessons whenever possible in order to keep her voice in the peak of condition.
In these days of ubiquitous microphones, people are sometimes surprised that artists are able to make themselves readily heard in cavernous theatres without having resort to amplification. Julia believes that vocal projection is a matter of precision rather than volume. The voice should have a clear centre, for a pin-point of intense sound will carry even when volume is low. Forcing production tends to spread the sound and defeats its own object.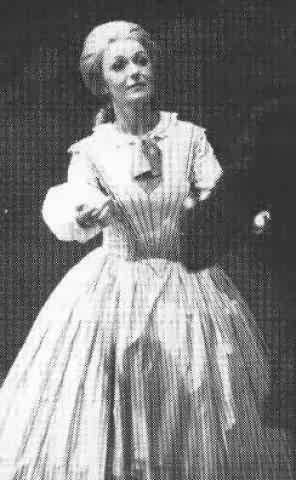 Not everyone can adjust to the perpetual living from suitcases which is the lot of a touring company, but, although once she found it strange, Julia soon adapted so well that she began to grow restless whenever the D'Oyly Carte Opera Company stayed in any town for an unusual length of time. At first she used to pack too many belongings - "travelling like Melba" as a former male colleague used mischievously to describe such feminine conceits - but she soon learned to tailor her wardrobe to the realities of an itinerant existence. History has a fascination for her, and touring brought frequent opportunities to visit churches and ancient monuments in a variety of places. She is an avid reader, enjoys cookery, and knows enough about needle-work and dressmaking to appreciate the excellent quality of the D'Oyly Carte costumes, which of course were beautifully fabricated and maintained and, although initially very costly, had a long serviceable life. Crinolines add a touch of excitement to disembarkation from grounded gondolas and have been known to entangle them-selves resolutely with sections of the scenery, but on the whole costumes, sets, and Julia herself emerged relatively unscathed. In common with many artists, Julia has an element of superstition in her personality which avoids tempting providence, and her attitude to life is fatalistic to some extent. Life can safely be taken a day at a time whilst the future in the main is left to fend for itself.
Vivacious, energetic and effervescent, Julia was well-respected in the Company for her hard work and professionalism. She has a strong sense of fun without being flippant, is a good conversationalist, and combines outstanding creative qualities with a foundation of practical common sense. Dedication and resolve are perhaps inseparable from someone who has reached and retained prominence in her chosen career. Julia was born under the sign of Cancer the Crab which, by her own admission, sums her up in many ways a hard outer shell being revealed to the world, while the underlying reality is quite different. If actresses are born and not made, Cancerians have an unfair advantage!