IF YOU WANT TO KNOW WHO WE ARE
Geoffrey Shovelton talks to David and Elaine Stevenson
Born an only child in Atherton near Manchester, the young Shovelton had a loud voice and very fast speech. The former he attributes to relatives in the cotton industry "Noise in the mills was so intense," he explains, "that communication had to be by sign language or yelling at the top of the voice. I grew up thinking everyone talked as loud as that!"
As a boy he was a prolific reader, and artistic skill was in evidence at an early age. Many of you will recall his caricatures of colleagues and may also have seen his Christmas card designs. An elder cousin encouraged him to start scraperboard, calligraphy and drawing in ink. He is also competent in water colours, but prefers line drawing.
After graduating from Hull and London Universities, Geoffrey embarked on a career in education. For several years he was senior geography master in a grammar school. Meanwhile he continued to play the piano and organ, and his growing vocal talent blossomed under the direction of Dino Borgioli and Roy Henderson. Studies included voice production, oratorio, lieder and opera, and in 1964/65 he won prizes in international competitions in Belgium and Holland.
Winning distinctions in competition with experienced young professionals from the opera houses of Europe was an outstanding achievement. However, the strain of a dual career was taking an inevitable toll, and he felt frustrated at being unable to devote himself fully to either. The break came in 1971 when he had the choice between a lectureship at a college of education and a contract with Scottish Opera. "I miss teaching very much," he confided, "but not so much that I am anxious to return to it!"
After performing with Basilica Opera and the Chelsea Opera Group, Geoffrey joined D'Oyly Carte for the first time in 1975. He enjoys Gilbert and Sullivan immensely. His favourite roles were Nanki-Poo, Fairfax and Cyril. There is some fine singing for Nanki-Poo - and some pleasing work with Yum-Yum in Act 1! Fairfax demands careful character insight and challenges the actor. By contrast the extrovert Cyril has a flamboyant kissing song, an exquisite trio, and lots of clowning in female undergraduate robes. The song "Gently, gently, Evidently We are safe so far" was never more appropriate than when the show once resumed at this point after a bomb scare!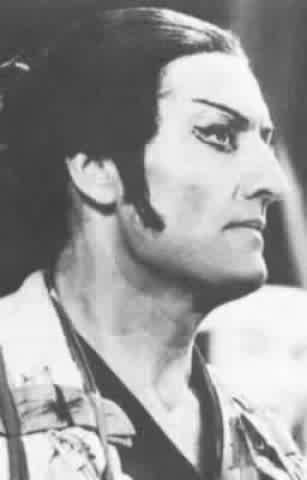 "Characterisation is a team consideration" he maintains. His aim was to create a strong, positive character who will blend with the other characters on-stage. In technique, he was fastidious with diction and seeks to modulate tone, delivery and pace to suit the character. The singing voice is less easy to vary, but careful thought was given to style and phrasing. Costumes, he feels, should be worn with all the assurance of everyday dress.
D'Oyly Carte audiences have a greater influence on performances than most other opera audiences in Geoffrey's view. "We did not perform merely in the presence of an audience," he argued. "We perform to and for an audience, and the sensitivity this develops keeps performances alive." Timing also assumes great importance. "I am happy to adapt details of my concept of a part" he said "if audience reaction shows there is a more effective way of playing them from their point of view."
A handsome man with an imposing stage presence, he had all the attributes for success in opera, with some valuable additional skills for good measure. "You're too good to be true," declared one transatlantic acquaintance who found his enthusiasm too much to believe. Others found it hard to accept that he got paid for something he enjoyed so much. "But what do you do for a living?" they asked!
Like his colleagues, he endlessly pursued the elusive goal of artistic perfection. Constantly polishing all aspects of performance, he searched for new skills to do his work to the optimum.
For the achievements of the D'Oyly Carte Opera Company he has a genuine admiration and, at the time when the company faced possible closure in 1981, he had the following to say: "D'Oyly Carte will survive! Northerners are fighters, and not even the Arts Council can dismay them!" He had a great respect for the Company, and was convinced that its work was often misunderstood and underrated by the critics.
All the same no company is perfect, and he would have liked a hard look taken at ways of improving the product. "We did jolly well last time," must be the attitude. "Let's see if we can do even better now".
The Company had the task of capturing and magnifying the magic of the world of the operas. D'Oyly Carte audiences did not simply attend the theatre; they went to meet old friends in the characters on-stage. There was the atmosphere of an 'at home' about performances, and the audience tradition passed easily from one generation to the next. "Its loss is unthinkable," said Geoffrey. "It is quite irreplaceable."
Part of his survival kit would be a television presentation of highlights from the shows. This would give excellent publicity and draw attention to some of the lesser-known operas.
"I would also love to see close involvement with schools in a continuing educational programme," he said. There would be immediate and long-term benefits for the Company, with an important enhancement of the general image. It would look active, imaginative and healthy, and attract interest accordingly "This is something D'Oyly Carte could do supremely well," he maintained. "Besides the charisma of tradition, touring gives us the great advantage of visiting widespread areas of the country And Gilbert and Sullivan provides youngsters with the ideal introduction to musical theatre."
A start was made in London. Sadler's Wells was filled with children, many of them in a theatre for the first time. They came to see a demonstration including performing skills, use of stage lights, and changing of sets. As a theatre workshop package it would have been developed into a complete educational experience, with a complementary range of talks available to schools. Who but a former teacher would recognise the opportunities?
"We could become synonymous with education in the theatre," he observed. 'A theatre workshop would integrate so closely with curricular activities that it would not be difficult to interest local education authorities in advance of our touring schedule." He envisaged a prospectus describing facilities, with resource material suitable for a variety of age groups about the Company and individual operas. Projects would be suggested for implementation before, during and after visits to the theatre.
Unfortunately this was not to be and one of our great traditions was lost forever.